STC Summit 2017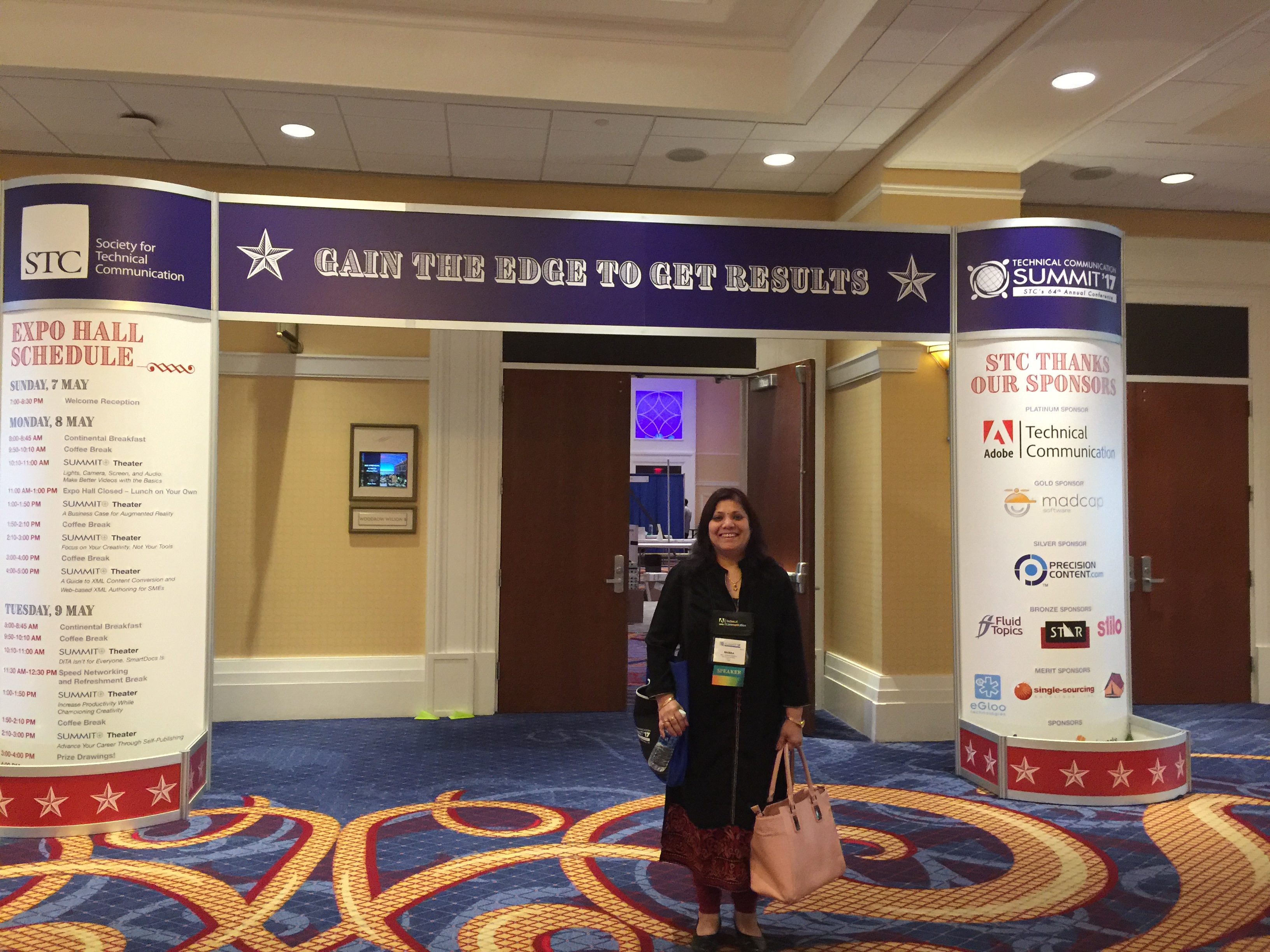 It was an opportunity of a lifetime: I got to attend and speak at STC Summit 2017 at National Gaylord Convention Centre and Resort in Washington DC, USA from 7-10 th May, 2017. My paper and presentation was on "Art of Writing in Agile". It was to be delivered on 9th May 4-4.50 pm. My better half and my younger daughter accompanied me to DC. We checked into the grand premises of Gaylord National Resort & Convention Center situated in Oxon Hill, Maryland. Palatial look and beautiful ambience of the convention centre took us in awe. My suite was on twelfth floor which was going to be our home for next four days. I got myself registered on 7th May afternoon and received my registration package which came along with, speakers tag , my name and first time attendee display on it. It was a display card which was a topic of conversation in itself with the attendees, I was meeting for the first time and whom I had seen and read on, so many times on LinkedIn profile. In the evening I attended opening speech of Keynote speaker Seth Mattison. It was an awesome experience!
From next day 8th May, I was totally busy in attending sessions on various topics of cutting edge technologies and methodologies in Technical Communication. I got to meet renowned technical communicators working in different areas of software development, automobile, aviation industry and academia. Receiving a signed copy from the "Frame Maker" author itself was great too. Breakfast, tea and coffee breaks in between were great to make acquaintances and know talented authors and technical communicators of different culture and background. I felt like Alice in Wonderland! Evenings were spent roaming around and spending quality time with my family in beautiful surroundings of the venue.
On 9th May, the day I was suppose to present, I was quite excited and nervous! With moral support and belief of my family I was able to reach DC from Pune, India and was going to speak on Agile Methodologies and art of writing in Agile way.
This topic is close to my heart. I was always  interested in research, learning and understanding latest tools and technologies, I worked upon this project of writing in Agile and submitting my proposal to STC. It was selected in due course of time and I received proposal selection mail and an invite from STC panel, to visit DC as speaker and present my paper in 64th Annual Global Conference "STC Summit 2017" during 7-10th May 2017. I started my preparations for overseas travel and presentation on "Art of Writing in Agile" to a wider audience on a Global platform. Reading books and write-ups on Agile, making notes, writing my own findings beside working on a live Agile Project was an experience in itself. This invitation from STC acted as a magic potion for me, as I was bed ridden and slowly recovering from Vestibular Neuritis, when I first read the news in mail. Reading, writing and preparing myself for the Big event was my only aim and I focussed my energies to achieve it! Beside the brain conditioning exercises, moral support of my family and friends, and continuous efforts to fulfil my dream, I was not only able to gather myself fully but also travel and present successfully at the event!  "And, when you want something, all the universe conspires in helping you to achieve it." ― Paulo Coelho, The Alchemist. My fellow counterparts and SRK fans cannot agree more!!